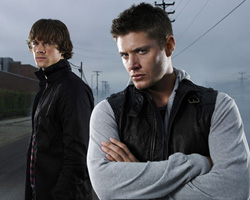 Happy Thursday everyone. I'm excited because two of my favorite paranormal theme shows are back: Supernatural on tonight and Moonlight on Friday.
I love Supernatural because they combine the serious and silly together. It is the relationship between Sam and Dean Winchester (played by Jared Paledecki and Jensen Ackles) that really make the show. The two brothers have real love for each other even with all the craziness that goes around them. Now the big question is Dean going to die and can Sam save him? I have to admit I'm partial to Dean. Me and the fictional character even share the same birthday! So I guess it's only natural he's my fave.
Then over at Moonlight, we have Private eye and dead guy, Mick St. John (played by Alex O'Loughlin). I always had a fondness for vampires. Mick now is temporarily human and may get to spend some of this time with his beloved Beth. Who knows what will happen? I also love his cynical and many centuries old fellow vamp Josef.
So set those VCR, DVD-R for record, if you have plans tonight and tomorrow. These shows are not to be missed.