Happy Winter, my friends. We have literally gone
almost through all the darkest days. Tonight is
the longest night of the year. After that, the days
get a little bit longer daily. Rejoice.
Are you excited for Winter? I am a Winter baby.
I always get that surge of excitement when the
season begins. Winter is a beautiful time.
It is full of magic, fresh starts, reflection
and adventure. All you have to do is look for it.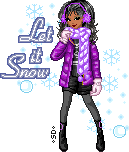 Here is my candle I will be lighting in honor
of Winter. A beautiful bright sunshiny yellow
in honor of the Sun. I adorned it with a sea
shell and roses from my lovely plant.
Tomorrow is a Full Moon too. And Christmas
on Tuesday. And the New Year starts out
on a New Moon. Their is bright energy racing
in the skies waiting to be tapped into. If
no one has told you, I believe in you. I
know you will end 2018 strong. Feel about
2019 as this...
Come back tomorrow to see what my last song
is going to be tomorrow. If you missed it,
every Saturday to Christmas I am sharing my
favorite holiday songs.