Happy Thursday, my friends. It is a deliciously Rainy day here in The Bronx. If you have been reading my blog, you know I love Rainy Days. There is something very dreamy for me about the rain.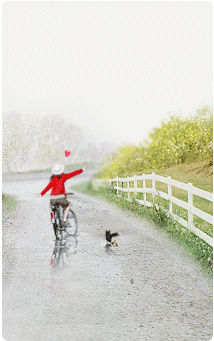 I love taking walks in the rain especially when I have no errands to do. It is a day for me to walk and be with the rain. Then there is the beauty of being indoors on a rainy day with a good book, movie and especially sweet treat to eat.
What do you like to do on a Rainy Day?
Here are my top five things to do on a Rainy Day.
1) I love to lay on my bed and watch the gray sky. There is a meditative quality for me. I can let my thoughts go and just be.
2) Read a great book.
3) Watch an old classic movie. Rainy Days make me long for a good Bette Davis movie or one of my favorite romantic movies to watch.
4) Sleep. As a mommy of a little one, I don't get a lot of that. When I can take a nap on a rainy day is like a slice of Heaven for me.
5) Quiet. Rainy Days feel quiet to me. It's as if the noise of the world is muted, you can hear the beauty of Nature rise up.
Wishing you all a wonderful Thursday whether it be Rainy or Sunny.